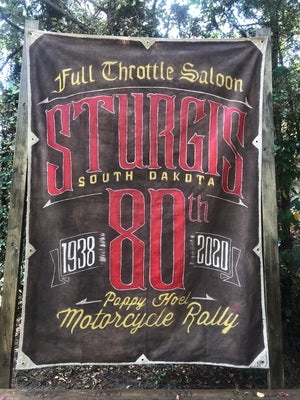 Sturgis 80th Anniversary event banner
Originally created to adorn our Wall of Death at the Full Throttle Saloon during the 80th Sturgis Motorcycle Rally, 2020, Rhett painted these 5 banners to hang around the circumference of the entire Wall on the outside, to be seen from all around the property. He has approx. 30 hours in each 5x7 signed, numbered banner. Though they didn't make it to Sturgis this year, we are making them available to you here in our Limited Edition Event Banner Collection, just as we would have if we had toured with them.
So whether you're heading to Sturgis for the 80th this year or not, one of these banners would serve as a beautiful reminder and souvenir of the crazy year, 2020, and all it has entailed!