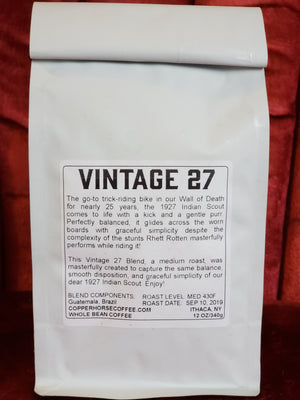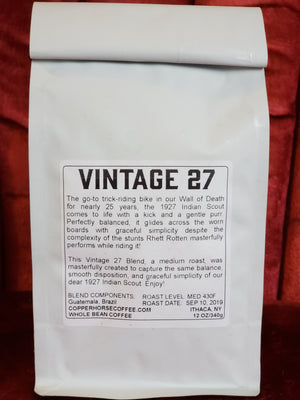 Vintage 27 Blend, medium roast
Our Signature Series Artisan Coffee Blends are exclusively roasted for Rhett Rotten Wall of Death by award-winning, small batch roastery, Copper Horse Coffee of Ithaca, NY. Each blend is thoughtfully fashioned after an element of the Wall of Death, drawing inspiration from the varying levels of intensity one might experience at our shows. On the label of each hand-stamped bag, you will find the country of origin, the roast date, and a brief description of the blend.
The Vintage 27 Blend, a medium roast, endeavors to capture the balance and finesse of our beloved 1927 Indian Scout, with it's smooth disposition and graceful simplicity.
Available in either whole bean or ground, it's the perfect start to every morning OR jump-start any afternoon!